Vimukthi Drug Awareness
VIMUKTHI DRUG AWARENESS: "DRUG WILL COST YOU MORE THAN MONEY"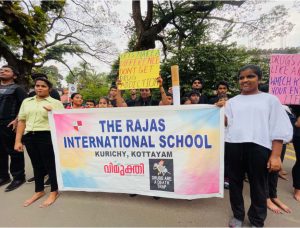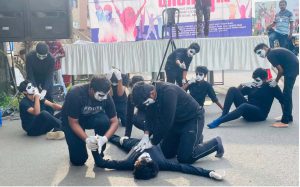 As part of the state Anti-drug campaign program, a "No Drunken Street" was organized on November 1, Kerala Birth Day at Kottayam Sasthri road at 3 pm with a declaration that 'Life itself is the drug'. The programme was inaugurated by our honourable ministers, V.N. Vasavan and A.K. Sasindran. MP Thomas Chazhikkadan, MLA Thiruvanchoor Radhakrishnan, Mayor Binci Sebastian, District Collector Dr. P.K.Jayasree and a lot of dignitaries attended the function. The program was organized by the Kerala state Excise department.
Vimukthi is a scheme implemented by Kerala government in order to spread awareness among people about the deadly harms caused by drugs and thus to create a drug free state by repudiating drugs. The inauguration ended up at 4.00 PM and after that the audience witnessed a lot of entertainment programs. 108 programs were conducted from 4 pm to 6pm in 7 stages.
11 students from Grade 7 to AL participated in Mime competition with a theme Drug abuse. To tell a story effectively without words is a difficult task. But our students interpreted the theme very well in-front of the audience.
Shastri Road was mesmerized on Tuesday evening in the 'No Drunken Street' with art, literature and sports programs like song-singing, poetry recitation and story-telling, Kalarippayattu combined with Kerala thanima and Meyvanakkam, mime, street drama, painting, etc…
About 30 students from Grade 4 to AL in our school participated in the events Flash Mob. Flash mob with lively steps along with rousing song was really enthralling. The students were highly excited to perform in front of a crowd. The performance by our students was mind blowing and their energy was on the next level. It was a beautiful and entertaining performance. The whole team was very graceful especially the kids from Grade 4 and 5.
The youth of Kottayam sang and danced loudly saying that life is not intoxication but madness. The city was bursting with youth like never before… Teachers, students, government employees and organizations were full in 'No Drunken Street' in the evening of the city, which was an unforgettable experience…