Our CEO ,receiving the coveted "Rashtrapathi Puraskar"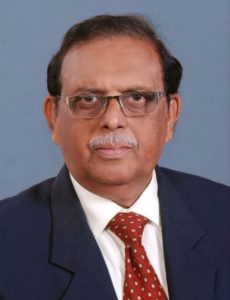 Mr.Kuriakose MA, MEd, PGDE is a versatile educationist with a proven track record of the administration of schools in India and abroad, affiliated to CBSE, CISCE, CIE & EDEXCEL (UK), as principal for three decades. While he was principal of Bokaro Ispat Senior Secondary School, he was bestowed with the most coveted award for teachers-RASHTRAPATHI PURASKAR- in 2001 and NATIONAL METALLURGIST'S DAY AWARD for meritorious service in 1996 from SAIL. The schools, he headed include Trivandrum International School, Ebenezer International School, Kottayam, Indian School, Nizwa, Oman, Bokaro Ispat Schools, Shalom group of schools etc.
TRIS is a dream project of our founder chairman late. Dr.S.A.Raja. A blended curriculum in pre-primary and conceptualized learning giving emphasis on hands on experience in the primary and middle school, equip our students to pursue secondary education with confidence.
Our hostel is a home away from home. Separate A/C hostel for boys and girls, under the pastoral care of wardens, structured prep supervised by teachers residing on the campus. Indoor and outdoor evening games and recreation program during weekends make their stay homely. Round the clock presence of principal on the campus enhances overall discipline.
'Strive not to be a success but rather to be of value.' These words of Albert Einstein are relevant these days. Success at any cost is the driving force of this generation. It should not be at the cost of ethos and ethics. We ensure this through charitable out reach programme, enabling our students to empathize with the downtrodden and abandoned people in the society.
I do hope you will move beyond visiting our school website. I look forward to meeting you shortly.
Kuriakose M.O
CEO